"THE PRIVATE EVENT SPECIALIST"
Comedian, Author, Magician, and Hypnotist
KANSAS CITY
MAGICIAN OF THE YEAR
2013 AND 2015
PROFESSIONALLY
TRAINED HYPNOTIST
NOMINATED
BEST IN ENTERTAINMENT
PITCH BEST OF
KANSAS CITY
2018
SAFETY TRAINED
AND FULLY INSURED
MEMBER OF THE
INTERNATIONAL
BROTHERHOOD
OF MAGICIANS
KANSAS CITY BASED ENTERTAINER AVAILABLE FOR HIRE IN ALL 50 STATES FOR EVENTS OF ALL SIZES!
Specializing in Entertainment for Private Events of All Kinds
Award Shows
Special Occasions
Holiday Parties
Banquets
College Shows
Weddings
Cocktail Parties
TAKE A LOOK AT OUR CLIENTS FROM ACROSS THE COUNTRY
WHAT IS GOING TO MAKE YOUR EVENT STAND OUT?
STROLLING ENTERTIANMENT
You'll hear the gasps of amazement and laughter as your guests are entertained with magic that happens in their own hands and live hypnosis demonstrations that happen in seconds!
Victors hilariously impressive strolling acts are ALWAYS the buzz at any event, Victor uses original material to entertain even those who have "seen it all" making YOU look like the superstar for bringing one of the best event performers in the nation.
THE "AFTER DINNER" MAGIC SHOW
Should this much fun be banned? For nearly a decade Victor has perfected the interactive, made to impress show perfect for private events of all kinds. It is the most hilarious and jaw-dropping show you might ever see and it puts YOUR AUDIENCE right in the midst of it all in this wildly interactive magical experience.
Imagine the looks on your audience face when they come face to face with real life teleportation, dangerously funny illusions and  predictions of the events from the show written down DAYS before your event. Your guest will NEVER forget your event after this!
THE "MAGIC AND HYPNOSIS" SHOW
The "After Dinner" Magic Show gets a premuim upgrade with the addition of hilarious hypnosis antics!
Nothing is as interactive, hilarious, and more memorable than a great hypnosis show. Best of all? Your audience becomes the stars of the show!
Ever seen your your friends use a rubber chicken as a telephone to order a pizza? That is just the start of this once in a lifetime show that will have each one of your guest thanking you for a truly unforgetable night!
The Victor Le'Yon Guarantee
Stay in constant communication with you before and after your event to answer any and all questions!
Customize your program to the need of YOUR event!
Arrive early to minimize the chance of any last second emergencies.
Entertain your guest with comedy, impressive magic all while being respectful of your audience AND professional before, during, and after your event!
NOT fail at any of these (which we never have). If we do you can rip our check up AND we will donate $100 to a charity of your choice!
CLICK THE VIDEO FOR A LIVE TESTIMONIAL!
"Highly entertaining! Funny, charismatic, and mind blowing performance! Your magician hunt for your next event ends here."
Amber Soloman - Google Review
"This guy is the whole package: charming, professional, and serious about his craft! In the Midwest he is one of the few event entertainers who is not only impressive but likeable."
Miss Miller - Google Review
"Always a pleasure to work with. Professional, great communication, and top notch entertainment"
Martika Daniels - Google Review
"
I have always been a fan of magic and I absolutely love the style and sophistication that comes with Victor. I recommend him for any event you need him for"
Travis Kochmeier - Google Review
"We have used Victor's services at a number of private and public events. In a word: enthralling! His shows are quite entertaining and always keeps the attention of the audience from start to finish. What's even better is how well he engages with the audience. He's a real showman and professional! "
Rashaan G.
"AMAZING!! From start to finish, Victor was a joy to work with. He came to our party and from the beginning, read the crowd and how he would approach his show. He did a great job interacting with us at each of our tables. Monday after the show, my co-workers were still talking about the show. Victor is my new go-to entertainer!  "
Alexis P.
Frequently Asked Questions
Is a deposit required?
Not for all event types. However, typically up to a $500 initial investment and signed agreement is required to reserve a date. For most events however, the event is not fully booked with Victor until both of these items have been received.
What do we need to provide you on our end?
What is needed varies based on the type of entertainment being provided.
If you go with a strolling/close up magic package, where Victor is merely strolling through your event and entertaining the guests, there are virtually no additional requirements. Everything Victor needs he comes prepared with in his pockets ready to entertain when he arrives at the event.
For the stage show packages, there are some important requirements that are needed in order for a successful performance.
1. If Victor is the only performer with equipment on the stage area, then we recommend a stage at least 12′ x 8′ and at least 6 inches off the floor, though this is not required. Depending on how high the stage is, stairs might also be required as there is fun audience participation throughout the performance. In cases where Victor's equipment would be sharing the stage with other performer(s) or guest (Hypnosis shows), a larger stage me be necessary or other special considerations.
2. In most cases, Victor will provide his own sound system unless it's a performance that requires air travel. In this case, we'll also need a professional sound system setup and monitored throughout the performance. We also need an an input for an iphone for sound effects.
Once again, most of the time Victor provides his own professional sound system. Please keep in mind that you still may have AV needs yourself and still may want to ask your venue to provide a microphone to show a presentation, announce winners, give speeches, etc.
3. In regards to lighting, we have no specific needs but do recommend not having your event too dark because it becomes more difficult for your guests to experience the amazing magic when they are struggling to see what's happening. In some cases Victor will provide his own lighting to enhance your event!
What forms of payment do you accept?
We accept all payments in the form of either cash, check, or cards. 
Will Victor hypnotize people just to embarrass them?
The short aswer: No
The long answer: The volunteers that join Victor on stage generally know they might be doing some zany antics and in this sense are generally very happy to particapte in the show! Hypnosis is a fully aware and mindful state of being and becuase of that Victor can not make anyone do or say anything they do not want to. Hypnotized voluteers have complete control to not do any actions they may deem embarrsing!
Is Victor able to entertain while people are eating?
Technically yes but we really don't recommend it. By the nature of the entertainment, your guests are often asked to help out. This is sometimes difficult when people are eating. And also it's hard to "watch closely" when you're enjoying dinner. This applies to all packages, strolling and stage shows.
Will this embarrass or offend anyone?
We're proud to say that absolutely NO ONE is embarrassed in any way. We've heard many horror stories of how other entertainers have completely offended guests in the audience with off color jokes and remarks. Victor has an in depth and first hand knowledge of what is and isnt okay to say and do in todays ploticized world and strives to provide entertainment that is completely clean and never relies on entertaining people by making fun or laughing at people.
What kind of room set up do you need for the stage show?
  Typically having the stage setup against a wall having all of your guests seated a few feet away (this helps provide a more intimate feeling). Guests that are seated directly to either side of the stage or behind, have TERRIBLE seats and therefore it's best to avoid that. A space that can comfortably seat all of your guests without having them on the sides or behind the stage is best. Also watch out for those huge annoying beams right in the middle of some rooms. Please take into consideration your guests so they don't get stuck behind one of them and miss out on the fun. For the "After Dinner" Magic Show we suggest a a stage of  12′ x 8′ and for the Magic and Hypnosis show we suggest a stage size of 24′ x 12′. See the example room diagram below.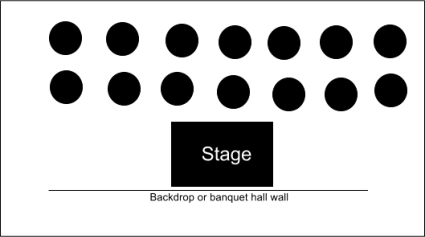 What size audiences can Victor entertain?
Victor's magic entertainment alone is best suited for small to medium size crowds. Victor specializes in entertaining groups as intimate as 10 people all the way up to 500 guests in a ballroom. With a suitable stage set up however or a hypnosis show, Victor can perform for any size event and audience.
If you have a large group (200 or more), the use of projection screens makes the show even more enjoyable for your guests. Talk to your venue or contact a local audio/video company with questions to further explore that option.