Victor Le'Yon is the
"PEOPLES CHOICE"
in Interactive Magic and Speaking
Victor Le'Yon is a professional magician, comedian, authour, and speaker based out of Kansas City, Missouri specializing in hassle free and engaging event entertainment.
KANSAS CITY
MAGICIAN OF THE YEAR
2013
KANSAS CITY
MAGICIAN OF THE YEAR
2015
NOMINATED
BEST IN ENTERTAINMENT
PITCH BEST OF
KANSAS CITY
2018
AS SEEN ON
KANSAS CITY LIVE
MEMBER OF THE
INTERNATIONAL
BROTHERHOOD
OF MAGICIANS
RESIDENT MAGICIAN
UNION STATION
2018
Victor is Available for Corporate and Private Events in all 50 United States!
If these companies can depend on Victor Le'Yon to make their events amazing, so can you!

 
COLLEGE SHOWS
SPEAKING ENGAGEMENTS
HOLIDAY PARTIES
CONVENTIONS
CORPORATE EVENTS
WEDDING RECEPTIONS
WHAT ARE CLIENTS SAYING ABOUT VICTOR?
"He's charming, witty, classy and versatile – the ultimate professional. "
"Funny, charismatic, and mind blowing performance! Your magician hunt for your next event ends here!
Your Guests Won't Remember the Food, the Music or the Decorations… They Will Remember the Entertainment!
WATCH THIS BONUS CLIP FROM VICTORS
LIVE 2017 MAGIC SEGMENT
"Victor's performance included more than just amazing magic tricks. First and foremost, he's a storyteller."
"We have hired magicians in the Kansas City Area before, but we felt like we struck gold when we hired Victor."
"Victor's magic was a true crowd-pleaser and he was truly invested in the success of our event."
Victor Le'Yon pictured here in the green room for TedTalk Youth Kansas City 2019 before his talk "How I accidentally became a magician" which would be a live prequel to his first book and memoir of this same title. Captured by Jim Nimmo Photography.
    Victor Le'Yon is Kansas City's local celebrity magician as well as interactive magic expert. Victor prides himself in bringing the fun of a Las Vegas showroom or cruise ship theatre to your event in a complete unique professional comedy act performed for private events and public events alike. 
Victor was born in Kansas City. MO, but his earliest memories of his childhood are of him growing up with frequent trips to visit family in Texas. Being a magician was an accidental career path for Victor which started from seeing a magic show at a young age with his twin sister, mother, and father. After his father passed away soon after, seeing and learning magic is what allowed Victor to keep those happy memories of his father alive. In his early 20's Victor began to perform his illusions throughout the midwest full time, as well as advocating for various social issues such as bullying, peer acceptance, and mental illness which lead to not only a robust magic career, but also becoming a popular speaker on topics regarding facing adversity. 
Victor has since then been featured in INK, Genie, and Phoenix Magazines, as well as seen on KCPT, KCLIVE, PBS, and featured at Ted Talk KC. The Magic of Victor Le'Yon has been named Kansas City Magician of the Year on several occasions starting in 2013 and continues to prove to be a true staple in Kansas City variety entertainment as well as Kansas City notable figure. 
Three Different Styles Of Magic To Make Your Event Unforgettable!
 1.  COMEDY MAGIC SHOW
Should this much fun be banned? "VICTOR LE'YON'S COMEDY MAGIC SHOW" is a 45 minute stage show that includes baffling demonstrations of magic and illusion, comedy, and tons of audience interaction, perfect for professional private events, after dinner banquets, or adding the cherry on top of any other special event! This show includes crowd favorites such as.. 
"THE SUIT JACKET ESCAPE"
Two audience members assist in this effect where Victor is restrained in his own suit using 18th century Siberian metal chained handcuffs. Afterwords Victor proceeds to not escape from the chains, but rather from his suit jacket which leads to a hilarious serious of events as the audience watches step by step as the suit jacket magically passes through Victors body and chains.  
2. WALK AROUND MAGIC
One of the important factors in creating a really special event is to make sure that your guests start having fun right away…minutes after they arrive.
You'll be delighted as you hear the gasps of amazement and laughter as your guests are entertained with their own 5 to 7 minute shows which include super fun magic that happens in their own hands.
You can expect such routines as having a playing card disappear from your guests hands and instantly appear in Victor's zipped wallet and also magical routines involving everyday money straight from Victor's Kansas City Magician of the Year 2013 act!
This enchanting, fun, and intimate form of "walk around" entertainment is perfect for cocktail parties or as before dinner entertainment. It will leave the lasting impression you desire.
3. SPEAKING EVENTS
Victor Le'Yon is known for more than just his amazing magic. In his popular keynote speech and soon to be released book "How I Accidentally Became a Magician," Victor not only presents some impressive magic, he  also dives deep into the importance of having a passion for what you do. Victor shares his struggles with finding and believing in his own passion of entertaining and speaking while recounting his experiences of homelessness, mental illness, identity issues and more all dating back to the loss of his father and upheaval of his childhood at an early age.
Victor encourages his audience through his story and visual magic to persevere towards their ultimate goal in life and uses his experience of going from performing pocket tricks on the streets for tips at the age of 19 to being one of the youngest, most successful and sought after entertainers in his area. 
"DIRECT YOUR OWN LIFE, AND NEVER FEEL LIKE YOU MUST LIVE IN THE WRITING OF SOMEONE ELSE'S SCRIPT"
DOWNLOAD VICTORS FREE EVENT GUIDE!
VICTOR GIVES YOU ALL THE TOOLS TO HELP MAKE YOUR EVENT A SUCCESS!
The 7 Biggest Mistakes Event Planners Make When Hiring Speakers And Entertainers… was written by Kansas City magician Victor Le'Yon. He shares his knowledge from performing at over 3000+ events and helps cut the learning curve to planning a successful special event. Find out what works and what doesn't work, how to avoid costly mistakes and learn how to make your boss go WOW! Download your FREE copy of David's guide right now and learn the secrets other entertainers don't want you to know.
#1 Mistake – You need to know this!
3 Dirty secrets the agencies don't want you to know!
Save time and money with this valuable guide
WE GUARANTEE WE WILL:
Stay in constant communication with you before and after your event to answer any and all questions!
Customize your program to the need of YOUR event!
Arrive early to minimize the chance of any last second emergencies.
Entertain your guest with comedy, impressive magic all while being respectful of your audience AND professional before, during, and after your event!
NOT fail at any of these (which we never have). If we do you can rip our check up AND we will donate $100 to a charity of your choice!
What my clients are saying
REAL LIFE REVIEWS
~
" Victor did a strolling magic comedy show for our Holiday party. He was great and really amazed our group with his magic. He is very personable and made sure to walk around and include everyone. We had our event at a private room in the Union Station. I believe that Victor can set up and entertain a crowd anywhere. A job well done!! "
Joani J.
"We have used Victor's services at a number of private and public events. In a word: enthralling! His magic/illusions are quite entertaining and always keeps the attention of the audience from start to finish. What's even better is how well he engages with the audience. He's a real showman and professional! "
Rashaan G.
"AMAZING!! From start to finish, Victor was a joy to work with. He came to our party and from the beginning, read the crowd and how he would approach his show. He did a great job interacting with us at each of our tables. Monday after the show, my co-workers were still trying to figure out how he did some of the magical tricks that he did. We thoroughly enjoyed the show!  "
Alexis P.
Frequently Asked Questions
Is Victor able to entertain people who don't speak English?
Thankfully, magic is very universally appealing to all walks of life! Although your non-english speaking guests may not totally understand every funny joke Victor makes, they'll still be thoroughly entertained and amazed by what they see!
Is a deposit required?
Not for all event types. However, typically a 50% initial investment and signed agreement is required to reserve a date. For most event the event is not fully booked with Victor until both of these items have been received.
What do we need to provide you on our end?
What is needed varies based on the type of entertainment being provided.
If you go with a strolling/close up magic package, where Victor is merely strolling through your event and entertaining the guests, there are virtually no additional requirements. Everything Victor needs he comes prepared with in his pockets ready to entertain when he arrives at the event.
For the stage show packages, there are some important requirements that are needed in order for a successful performance.
1. If Victor is the only performer with equipment on the stage area, then we recommend a stage at least 12′ x 8′ and at least 6 inches off the floor, though this is not required. Depending on how high the stage is, stairs might also be required as there is fun audience participation throughout the performance. In cases where Victor's equipment would be sharing the stage with other performer(s), a larger stage me be necessary or other special considerations.
2. In most cases, Victor will provide his own sound system unless it's a performance that requires air travel. In this case, we'll also need a professional sound system setup and monitored throughout the performance. The best type of mic is a headset mic known as a "country man". It is wireless and hands free. We also need an an input for an iphone for sound effects.
Once again, most of the time Victor provides his own professional sound system. Please keep in mind that you still may have AV needs yourself and still may want to ask your venue to provide a microphone to show a presentation, announce winners, give speeches, etc.
3. In regards to lighting, we have no specific needs but do recommend not having your event too dark because it becomes more difficult for your guests to experience the amazing magic when they are struggling to see what's happening.
What forms of payment do you accept?
We accept all payments in the form of either checks or cash
If paying with check, please make check payable to "Victor Le'Yon Entertainment"
Is Victor able to entertain while people are eating?
Technically yes but we really don't recommend it. By the nature of the entertainment, your guests participate in the magic and are often asked to help out. This is sometimes difficult when people are eating. And also it's hard to "watch closely" when you're enjoying dinner. This applies to all packages, strolling and stage shows.
Will this embarrass or offend anyone?
We're proud to say that absolutely NO ONE is embarrassed in any way. We've heard many horror stories of how other entertainers have completely offended guests in the audience with off color jokes and remarks. Victor Le'Yon's entertainment is completely PG-Rated and never relies on entertaining people by making fun or laughing at people. "We're not laughing at you, we're laughing with you…"
What kind of room set up do you need for the stage show?
Typically having the stage setup against a wall having all of your guests seated in front and as close as possible (this helps provide a more intimate feeling). Guests that are seated directly to either side of the stage or behind, have TERRIBLE seats and therefore it's best to avoid that. A space that can comfortably seat all of your guests without having them on the sides or behind the stage is best. Also watch out for those huge annoying beams right in the middle of some rooms. Please take into consideration your guests so they don't get stuck behind one of them and miss out on the fun. See the example room diagram below.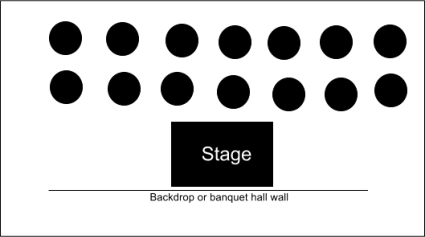 Optionally, you can request "pipe and drape" for the stage which basically serves as the backdrop of the performance and gives it a nice feel.
What size audiences can Victor entertain?
Victor's entertainment is best suited for small to medium size crowds. Victor entertains groups as intimate as 10 people all the way up to 500 guests in a ballroom.
If you have a large group (200 or more), the use of projection screens makes the show even more enjoyable for your guests. Talk to your venue or contact a local audio/video company with questions to further explore that option.
DO NOT DELAY!
Dates can fill up fast so please request availability, package and pricing info by clicking the button below or calling 816-716-1475